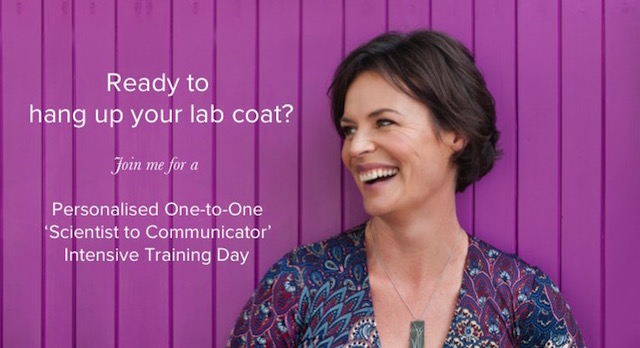 Ready to hang up your lab coat and enter the world of science, health and medical communications?
But not really sure what the options are and what steps you should take next?
I'm thrilled to offer my one-to-one 'Scientist to Communicator' training days for scientists, academics, PhDs, postdocs or health professionals interested in a career in health, medical or science communications.
As a researcher have you ever thought the following (secretly of course – it's career suicide to express this stuff out loud…):
You love giving talks about your research much more than doing the research, and wonder if it's possible to make a career out of that passion?
Your favourite part of research is making conference posters or writing papers (NOT the gruelling hours of bench-work generating data & crunching stats), and you'd love to spend your days doing only that (believe it or not, there are jobs out there that let you do exactly this!).
Perhaps you know your heart lies with explaining science in simple terms (are you the person whose favourite part of writing a grant application was the 'for the public' section? I know mine was), and you wonder if there is a need for people like you away from the bench?
Maybe you've got a young family, or you're considered having children in the future, but you can't see how you can combine a successful research career with parenthood. Do wonder if there is some way to carry on 'doing science' with kids?
Or maybe you're just fed-up with paper publication merry-go-round, grant application process and shrinking opportunities in research, and you want to explore other career options that won't waste all those years of study and research.
Sound like you? Well that WAS me back in 2006!!  I've created this day to give you the information, advice and guidance I wish I'd had when I was working up the courage to 'jump' !
I've mentored numerous scientists and other health professionals over the last five years as they've transitioned from the world of academia or research into the world of science communications, editing, medical writing, journalism, and not-for-profit consultancy both as freelancers or employed.
I've now created this unique opportunity to work with me in-person over the course of a day (or two half-days) to explore the various options available to you to move out of the lab into business (still doing what they love, and making a healthy income at the same time), and the exact step-by-step process to getting there.
(I don't believe you'll find anything similar on offer tailored specifically for PhDs or postdocs – so I'm calling it a world-first!)
WHAT IS A ONE-TO-ONE 'SCIENTIST TO COMMUNICATOR' TRAINING DAY?
My 'Scientist to Communicator' Career Training Days are five hour training sessions.  If you live in Sydney – fabulous – I hold training days in my home on Sydney's Northern Beaches.
For those living outside Sydney and internationally, I offer the same sessions over Skype & webinar (we'll not go five hours straight online, instead we'll break the day up into 45-50 minute sessions, then every hour then take a short break!)
There is the option of dividing the day into two half-days for convenience (e.g. two Saturday afternoon sessions, or two evenings).
This day is designed so that you will walk away with total clarity to your own transition out of the lab/research/academia and into a new life as a freelancer, self-employed consultant or employed in health, science or medical communications.
WHY CHOOSE AN ONE DAY INTENSIVE WITH ME?
When it comes to career training and planning, private intensives are by far the best way to create big shifts in a short space of time. You get to work on the key areas of your transition, consider where you are now, where to you want to be in the future, and how you'll get there.
I'll share with you exactly how I made the transition from lab scientist to science writer, paid speaker and sought-after 'expert' (and we'll deal with the use of that word 'expert' too, because as a scientist I'll bet that term doesn't sit well with you right now).  You'll learn from me what has worked, what hasn't, and I'll give you insight into how I run my business, how I win clients, why I blog (and why you don't need to), and the insights about the industry I've gained along the way.
If you have ZERO clue of what direction you'd like to head (but just know it is away from the lab), then we'll spend the first session of the day looking at all the possibilities there are for someone with your qualifications, skills, and experience. You'll be AMAZED at how sought after scientists and academics are in the 'real world' !!
At the end of our day together, you'll know exactly what you need to be working next. And even if you choose to stay at the bench for the foreseeable future, you'll have a clear plan of your career goals and vision, and steps for the next three to six months.
YOUR TRAINING WILL BE DESIGNED TO FOCUS ON THE AREAS WHERE YOU NEED DIRECTION.
Topics we can focus on include:
What are the various career choices out there for PhDs and postdocs who want to hang up their lab-coats?
What you should start doing now, while still employed as an academic or working in the lab to kick-start you career in science, health or medical communications.
Freelancer or employed? How to decide whether to go it alone as a freelancer or move 'sideways' into employment outside academica/research.
What are the various industries that employ science communicators?  We'll discuss the myriad of options open to you including: editing, publishing, journalism, medical education, not-for-profit, government, pharma, speaking, consulting …. (the list goes on). We'll discuss your future salary expectations, and what various industries offer.
If you do choose to go the freelance route we'll discuss the first steps you need to take to start a freelance business, how to tell people you're 'in business', how to find your first client, and how to price your services (quoting for work is an art and science in itself and I have a very specific technique I'll teach on how to price your services so no client can say 'no'!).
If you do leap, should you start a blog? Do you need to write a book? Do you need to win speaking gigs or go on TV?
Do you have to be on Twitter, Facebook and Instagram in order to network?
We'll talk about the one social media platform you MUST build a profile on (and we'll start creating your online profile during the day).
We'll take a quick look at your CV and talk about how you can improve on it.
I'll give you a few tools  and ideas about the ONE critical skill you must learn: how to stop writing and talking like a scientist!
Mindset shifts around 'selling your soul' (hasn't everyone heard that one before – after all that's the choice you make when you decide to leave research, right?), self promotion, selling your skills and services, and building a personal brand (no – it isn't just for '22-year old fashion bloggers!!').
You'll also have access to my business network. In the past I've sub-contracted work out to my medical writing mentees to give them a 'step up' into freelance life, and I often refer on projects or clients I'm not well-suited for or don't have the capacity to fulfil. Building a network is crucial to your ongoing success and this opportunity to work with me and gain access to mine is priceless.
Each day is fully customised to your unique needs, background and goals.
The day is intense, but I'll give you my devoted attention, and access to my experience and insights – you have no idea what an exciting world of opportunity waits for you outside the lab.
WHAT'S INCLUDED IN YOUR DAY?
Pre-work:
I'll send a detailed questionnnare for me to get to know you and your needs before the one-day training session.
Training:
Five hours of one-to-one time with me working through your options (includes coffee breaks and a working lunch).
Action Plan:
Three to six month action plan you can implement if you decide to 'jump' !
Optional Follow Up:
We can arrange monthly follow up phone calls once our day together is over, to see how you're progressing and to answer any questions to will undoubtedly arise.
TYPICAL SCHEDULE FOR YOUR TRAINING DAY
9.30am:   Welcome and solidify your intentions for your day. Review where you are currently and where you want to be.
10am – 12pm:   Training Intensive (with time for coffee!). We'll look at the various options open to PhDs and consider which industry or career path might be the best match for you.
12pm – 1pm:   Lunch (if you're meeting me face-to-face we'll relax while we eat, but also talk blogging, social media, and 'putting yourself out there')
1pm – 2.30pm:   Training Intensive including development of action plan tailored specifically for your circumstances.    Wrap-up and plans for the following few months.
WANT TO SPEAK WITH ME & HAVE YOUR QUESTIONS ANSWERED?
NOTE: I'm presently completely booked up until March 2016
Testimonials
Sarah is an excellent mentor and I recommend her most highly. She has been generous with her time and offered me invaluable advice as I have been shifting my career, from being a long-time medical science researcher, to setting up freelance work as a medical writer and copy-editor. Sarah has given me a great introduction to such a wide range of topics, including: the importance of having a portfolio, the benefits of blogging, different types of writing, networking with medical writers, making the most of social media, and preparing a quote and securing the job! As a mentor, Sarah provides a fantastic toolbox for anyone taking the journey 'Scientist to Communicator' and she is a pleasure to work with. Thanks Sarah.

Dr Lowenna Holt

I was incredibly fortunate to be mentored by Dr Sarah McKay in 2013 as I was setting up my freelance medical writing business.  Sarah is one of those exceptional people who is kind and generous with her time and knowledge and genuinely wanted me to succeed and follow in her footsteps.  Sarah was able to give me sound advice on subjects such as quoting, time management, setting up a website and blogging to drive traffic to the website.  She has also referred work on to me and we have worked together on several projects. These early jobs increased my confidence when I was just getting established. My business has gone from strength to strength over the past 3 years and I now regularly have to turn work away and am thinking of expanding and subcontracting work to other writers.  I am working close to full time (with flexibility around school holidays which suits me perfectly) and earning significantly more than I was in my last 'employed' position. Sarah has been, and continues to be, a very inspiring mentor.  If you are even vaguely considering entering the medical writing or freelance area I highly recommend the mentoring process.

Dr Ruth Hadfield (Mediwrite medical writing services).
When I left academia to become a medical writer, I was scared and unsure, to say the least. I had no idea where to start or even if I had the skills and experience to become a medical writer. I had no real writing portfolio and my CV was tailored to academic roles and funding bodies. I knew Sarah from my days in academia and knew she had successfully made the transition to medical writing, so I got in touch with her.

Sarah ended up becoming my mentor. She helped me realise that although my life up until that point was research, the skills and expertise I gained were ones that were critical to being a successful medical writer. She helped me with my CV, focusing it so that it would appeal to medical writing agencies and potential employers. She advised me on how to get practice my medical writing skills and how to start a website and blog as a platform to showcase my style and portfolio.

When I decided to try freelancing, Sarah guided me through the whole process, from setting up an ABN, to how to find clients, and how to decide on my rates and quote a job as accurately as possible. Whilst freelancing didn't end up being my cup of tea, I have successfully made the transition to medical writing, joining an agency November last year and still enjoying every minute of my new career. I am so thankful for all the advice, guidance and support Sarah has given me and because of it the transition was less daunting and a lot smoother than if I had gone it alone. Thank you Sarah!

Dr Andrea Cowley (NPS).
Neuroscientist, Author, Speaker, Director of The Neuroscience Academy suite of professional training programs.
download my free checklist
9 Daily Habits of Highly Healthy Brains
Learn how to use neuroscience in your everyday life.