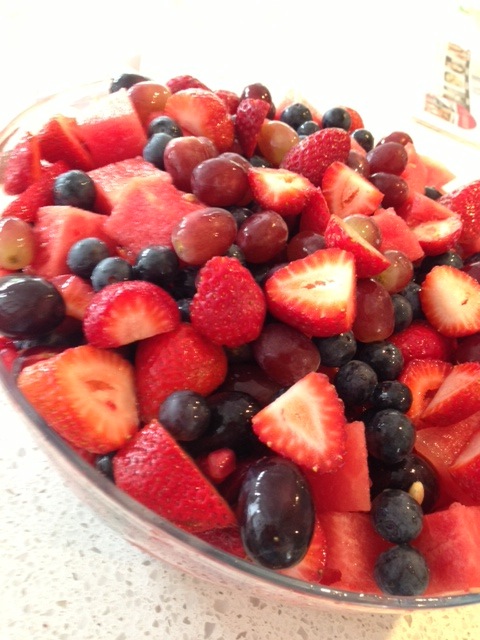 Early October and the mulberry tree over my back fence is laden down with fruit.  I picked three kilos to freeze in less than half an hour over the weekend … I'll be heading out again this afternoon to pick more.  And, once the crop is finished, it should be time for the strawberries to ripen. Yum!
Do you know why I love berries?
Simple.  They taste good!
Do I also love them because they're a brain-boosting super food?
No. Because I don't believe in 'super foods.'
I absolutely think berries should form part of a healthy diet, and, yes, they contain nutrients that may impact cognition (I'll blog about that next week), but whether or not they deserve their 'super food' status is open for debate.
The term 'super food' is a marketing word
It refers to something that has a supposed health benefit, or is claimed to do several positive things – like cure cancer, boost your brain, or 'cleanse your blood'.
As far as I can tell, the top super foods for 2013 include kale, almonds, pomegranates, quinoa, coconut, cacao nibs and, of course, berries.
Aussie nutrition academic and blogger at Thinking Nutrition, Tim Crowe, also believes the term 'super food' has little meaning when it comes down to the science, he sums it up nicely when he says,
The term 'super food' is an over-used and over-hyped marketing tool, rather than a useful guide for consumers in choosing what foods to eat.
Often the scientific evidence for their super powers over more humble (and cheap!) foods is limited.
Lets compare blueberries with, say, liver.
If you take 100 grams of chicken liver and look at the  recommended daily value (RDV) of various nutrients you'll find liver contains,
Vitamin A = 267%
Vitamin C = 47%
Iron = 65%
Liver is also a source of Thiamin, Zinc, Copper, Manganese, protein, Riboflavin, Niacin, Vitamin B6, Folate, Vitamin B12, Pantothenic Acid, Phosphorus and Selenium.
Take 100 grams of blueberries and you'll find the RDV for the following is,
Vitamin A = 1%
Vitamin C = 16%
Iron = 2%
And a large portion of the calories in blueberries come from sugars.  Granted, berries are much lower in cholesterol, but liver exhibits roughly 16 times the anti-inflammatory properties of blueberries!
Maybe the problem is, liver just doesn't look as pretty liquefied into a smoothie and poured into a mason jar to be photographed on Instagram.  Beware all the pretty pictures you seen on foodie health blogs … the science isn't always in support.
Obviously, I've just shown one comparison here, but I did choose liver because it really is close to a complete food, it's just not as marketable or pretty as the blueberry!
So where does that leave you when you're trying to eat the best diet for brain health?
I blogged about a few weeks back that scientists are pretty confident that the Mediterranean diet appears to offer protection against cognitive decline and dementia.  And as I said then, the "single nutrient" approach fails, similarly, so does the super food approach.
Relying on 'super foods' might seem like the quick and easy way to good health but it's unlikely that any single food will make a major difference to brain health.
Think about including berries as one of many foods in your Mediterranean diet-based approach. Along with the kale, almonds, pomegranates, quinoa, coconut and cacao nibs (and whatever the super foods for 2014 will be)!  Add them all – just don't assume each food has the ability to supercharge your brain.
Berries DO contain a number of nutrients that are very good for your health – polyphenols and  flavonoids to name two – and there are many studies underway assessing the impact of these specific nutrients on brain health.
In the meantime, here is a great article about super foods and cancer written by Cancer Research UK, well worth a read.
And if you want to read more about the nutrient components of various foods, look them up here at Nutrition Self Data.
[hr]
Leave me a comment below … are you surprised by the comparison between berries and liver?
Would you be brave enough to try a liver smoothie, or will you stick with liver pate?
I'm an Oxford University-educated neuroscientist, presenter of ABC Catalyst, director of The Neuroscience Academy, and author of The Women's Brain Book. The neuroscience of health, hormones and happiness.
download my free checklist
9 Daily Habits of Highly Healthy Brains
Learn how to use neuroscience in your everyday life.