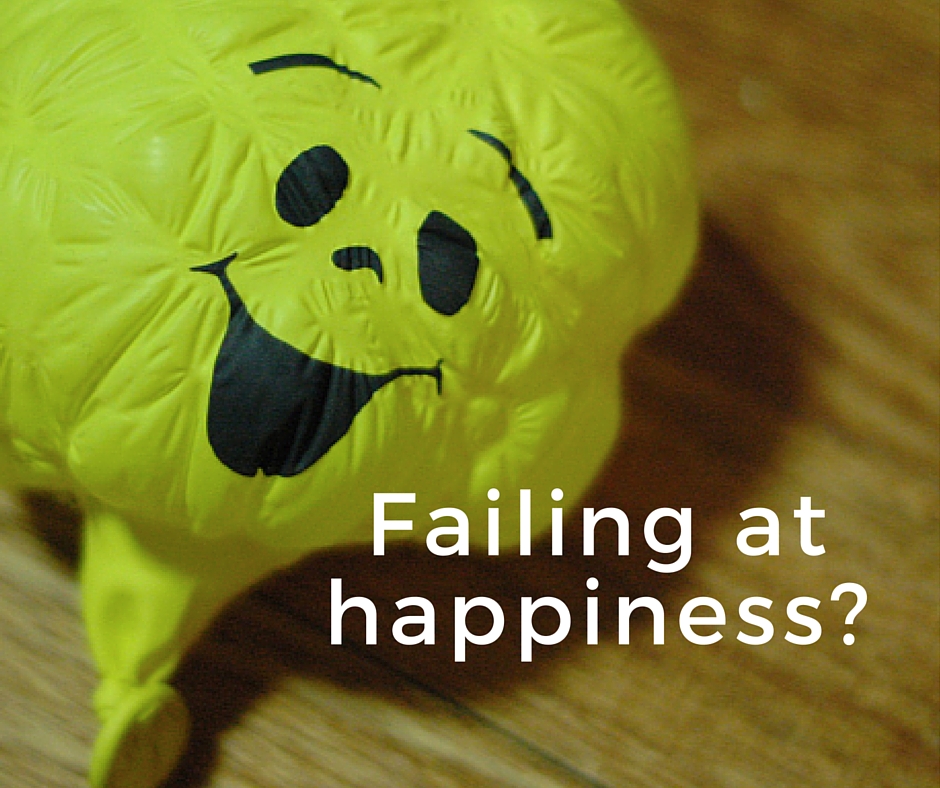 Are you afraid of happiness? Take a quiz to find out.
Underlying much of the traditional research on happiness is the assumption that personal happiness is a valuable goal that should be actively pursued: HAPPINESS is one of the most important values guiding individuals' lives, if not the most important. UNHAPPINESS on the other hand is to be prevented, avoided or eliminated.
The literature is littered with quotes on this quest,
…every human being, no matter what culture, age, educational attainment, or degree of physical and mental development, wants to be happy. It is the common end to which all humans strive.
…failure to achieve happiness… can be seen as one of the greatest failures a person can experience.
I guess most of us would agree that happiness is a basic emotional need.
Studies
 confirm most people highly value personal happiness. They think about it at least once a day.
Many people look to self-help, coaching or therapy on their quest for paths to happiness.
Turning happiness research on its head: fear of happiness.
Recently, when flicking through SciAmMind over my morning coffee, I came across an interesting report. Studies have found that it's not UNHAPPINESS that's the problem, but feeling HAPPY that's scary.
Some people (and if you think about it, you could probably identify a few) actively avoid positive emotions.
People fear positive emotions for many reasons. They may feel unworthy or believe good fortune leads to a fall.
One researcher writes,
"Some people experience happiness as being relaxed or even lazy, as if happiness is frivolous and one must always be striving; others feel uncomfortable if they are not always worrying …It is not uncommon for people to fear that if they are happy about something, it will be taken away."
A second research team (lead by a kiwi!) suggest that recognising this fear of happiness and targeting it with therapy may be a critical first step in treating some mental health disorders.
Take the quiz: Are you afraid of happiness?
Mohsen Joshanloo, the psychology graduate student at Victoria University of Wellington over in my homeland of Aotearoa, and first author on the paper published in the Journal of Cross-Cultural Psychology, developed a 'Fear of Happiness Scale' as part of the investigation.
Here's Mohsen's quiz:
Read each of the following statements, and score each from 0-4 ( where 0 is 'not at all like me' and 4 is 'extremely like me').
I am frightened to let myself become too happy.
I find it difficult to trust positive feelings.
My good feelings never last.
I feel I don't deserve to be happy.
Feeling good makes me uncomfortable.
I don't let myself get too excited about positive things or achievements.
When you're happy, you can never be sure that something is not going to hit you out of the blue.
I worry that if I feel good something bad could happen.
If you feel good, you let your guard down.
If your total score is above 20 this may indicate a higher fear of happiness than average.
It's worth noting the study found this scale to be reliable in 14 different cultures.
Avoiding happiness? How mindfulness can help.
Professor Paul Gilbert, head of the Mental Health Research Unit at the University of Derby, published similar research in 2012. He suggests that an aversion to positive emotions often coexists with mental health problems. Patients with major depressive disorder, for example, avoid and suppress negative and positive emotions more than healthy people.
According to Professor Gilbert,
"It is very important that the fear of happiness become a focus for therapy in its own right, and that means treating it as you would any other fear."
Gilbert says that exposure therapy or mindfulness techniques show people how people feel happy without judgment.
Traditional therapeutic approaches often encourage depressed patients to participate in enjoyable situations, yet the new findings suggest that some people may first need to practice allowing themselves to feel any pleasant emotions at all.
In reading around this topic, I came across the following words from a social worker, Melody Baker, who puts it so very eloquently:
"It seems to me that a person who fears happiness does not actually fear the feeling of being happy… Rather, that person fears what happiness will bring with it. For some, happiness brings with it a fear of losing the things in life that have brought about that happiness."
[hr]
Gilbert et al 2012, Fears of compassion and happiness in relation to alexithymia, mindfulness, and self-criticism. Psychology and Psychotherapy: Theory, Research and Practice (2012), 85, 374–390.  Joshanloo et al 2014, Cross-Cultural Validation of Fear of Happiness Scale Across 14 National Groups. Journal of Cross-Cultural Psychology (published online 2013).  Scientific American Mind (January/February 2014), 25, 18  Published online: 19 December 2013, doi:10.1038/scientificamericanmind0114-18a.
Image credit: https://www.flickr.com/photos/gemsling/
I'm an Oxford University-educated neuroscientist, presenter of ABC Catalyst, director of The Neuroscience Academy, and author of The Women's Brain Book. The neuroscience of health, hormones and happiness.
download my free checklist
9 Daily Habits of Highly Healthy Brains
Learn how to use neuroscience in your everyday life.