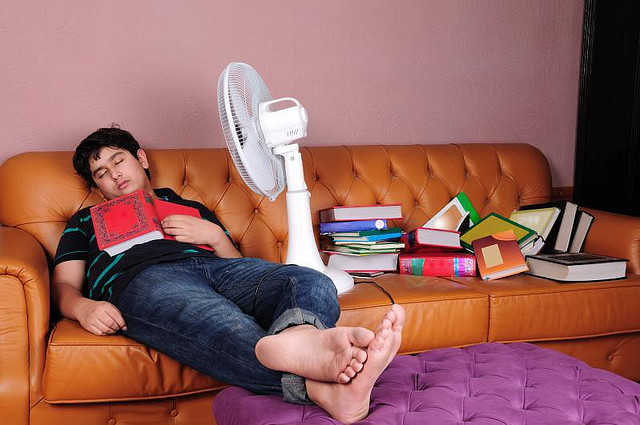 Would teenagers do better in their exams if they could sleep in and start school later in the day?
Can physical fitness improve academic achievement?
Will teaching the same lesson multiple times over with breaks between sessions improve learning?
Can computer games teach children to read?
These questions above are part of a multi-million-pound research project, funded by the Wellcome Trust (who kindly funded the graduate education of yours truly!) and the Education Endowment Foundation (EEF), to investigate a variety of ways neuroscience might improve teaching and learning in the UK.
Using neuroscience to inform education
Thousands of pupils across England will take part in a series of randomised controlled trials to provide more robust evidence about how neuroscience relates to learning. It's hoped that by funding large-scale controlled trials that a significant body of neuroscience evidence that can be used by teachers and schools to improve attainment, especially for disadvantaged pupils.
Dr Hilary Leevers, Head of Education and Learning at the Wellcome Trust, said:
"Our growing understanding of how the brain acquires and processes information has great potential to improve teaching and learning. We know that many teachers are keen to try new approaches based on neuroscience; however, we have so far lacked evidence about what will actually be beneficial to their students. We are delighted to be able to support an exciting range of projects that will test the benefits of educational approaches informed by neuroscience and help to build the evidence base on how to improve educational outcomes."
Edit:  For an excellent summary of neuro-myths in the classroom check out this recent article in The Guardian: 'Brain baloney has no place in the classroom'
Teensleep – the project
One of the funded projects is Teensleep. The project came about because there is growing evidence that teenagers' academic attainment is hampered by a lack of sleep.
Adolescent circadian rhythms (the body clock that manages the cycle of sleep and wakefulness) are delayed by approximately two hours compared to adults', so current school start times often force teenagers to wake up and learn while they're still sleepy. Teenagers' biological predisposition for delayed sleep is exacerbated by more relaxed societal attitudes regarding bedtimes, and perhaps by 24/7 access to social media and abnormal light exposure that comes from a range of electrical devices (fodder for another blog post there!). Try and find a teenager who is happy to switch off all devices and head to bed early.
Teensleep will aim to address these problems by training teachers to deliver sleep education lessons, and assisting schools to move their start times to 10am (if the evidence shows this is what is effective).
There is strong evidence from trials in the USA that later school start times can have a positive impact on academic attainment, behaviour and health. There have been several UK pilots of later school start times, which suggest that the approach is feasible, but this will be the first large randomised controlled trial in UK schools. If the proposed interventions are found to be effective, then the evidence will exist to support the introduction of both later start times and the sleep education programmes across UK schools.
Results are due in September 2018!
Other EEF funded projects include:
Photo credit:  Mrehen on flickr.
Do you have a teenager?  Do you think they'd benefit from a 10am school start time?
I'm an Oxford University-educated neuroscientist, presenter of ABC Catalyst, director of The Neuroscience Academy, and author of The Women's Brain Book. The neuroscience of health, hormones and happiness.
download my free checklist
9 Daily Habits of Highly Healthy Brains
Learn how to use neuroscience in your everyday life.