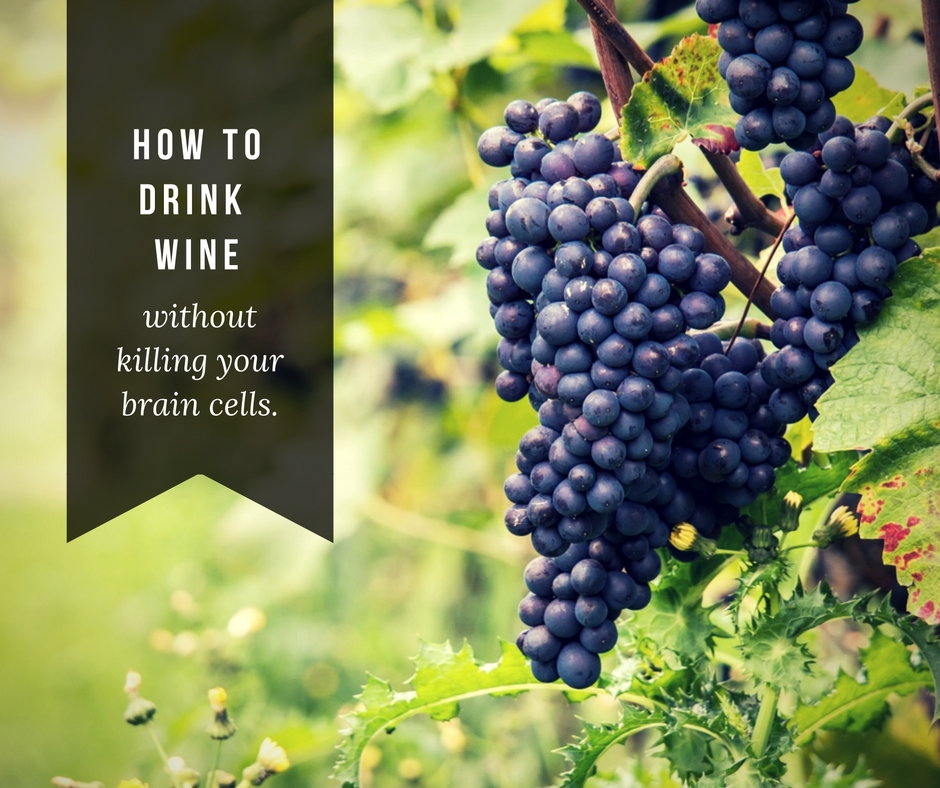 A glass of Pinot Noir from Central Otago in New Zealand, tops the list of my favourite indulgences.
Especially coming at the end of  day wrangling the kids.
Or chasing that elusive perfect re-phrasing of: "…non-inferiority guidance states that non-inferiority studies seek to show that the difference in response between the active controls and test drugs, and the amount by which the control may be superior to test drug, is less than a pre-specified non-inferiority margin…". Yeah.  That was a two-glass evening!
Do you worry about your brain health when you enjoy your tipple?
It's only natural to worry and wise to be concerned. After all, alcohol KILLS brain cells. Right?
Wrong!
Here's the good news from the world of neuroscience:
Moderate amounts of alcohol may protect against dementia.
How do we know that?
In 2008, a group of scientists in the UK collated and analysed all the data from 23 studies examining the relationship between drinking booze and cognitive decline or dementia in the elderly. They reported:
…low to moderate alcohol use is associated with a 38% reduced risk dementia… and a 32% reduced risk of developing Alzheimer's disease…
Or in less sciencey language, teetotallers are more likely to develop dementia than people who enjoy a glass of wine a day.
The latest and largest meta-analysis of modifiable lifestyle factors for Alzheimer's disease (see here for a plain language summary) also supports this finding.
The benefits of red wine for brain and heart health
The very same relationship has been shown for heart health. Drinking small amounts of alcohol (about one drink a day) is lessens your risk for heart disease.  Of course, binge drinking and consuming excessive units a day are NOT good for any aspect of your heart or brain health (common sense really). The 2008 study also showed that excessive alcohol use IS associated with cognitive decline in the elderly.
How does alcohol protect the brain?
We don't know exactly how or why small amounts of alcohol protect brain health. The possibility exists that people who drink alcohol sensibly also live healthier lives in general. Maybe moderate wine-drinkers also take good care of their physical, dietary and mental health.  The details aren't clear yet.
Should I start drinking red wine to delay Alzheimer's disease?
Let's get something straight. I'm not here to tell you to take up drinking alcohol daily to prevent dementia. The problem with saying things like "moderate consumption of wine is good for your health" is that it's a dangerous recommendation! After all, what is 'moderate' to me, might be way more than you currently drink anyway.
And while the paper published by these UK researchers is really interesting, it is insufficient evidence to promote alcohol consumption to teetotallers as a means of warding off dementia.
To back up what I'm saying, Australia's National Health Medical Research Council (NHMRC) Guidelines to Reduce Health Risks from Drinking Alcohol recommend that all adults limit alcohol consumption to no more than 2 drinks on any day to reduce risk of long-term harm, and no more than 4 drinks on any day to reduce risk of short-term harm.
So by all means, if you do choose to imbibe, make that one glass of wine a guilt-free glass.  The stress of worrying about your neurons is probably worse for you!!!
---
Right, let's lighten things up a little…
Got a wine you love to indulge in?  I'll tell you mine if you tell me yours.  Leave a comment below and tell me your favourite wine.
Me, I LOVE Mt Maude Pinot Noir from Central Otago.  Your turn!
[hr]
I'm an Oxford University-educated neuroscientist, presenter of ABC Catalyst, director of The Neuroscience Academy, and author of The Women's Brain Book. The neuroscience of health, hormones and happiness.
download my free checklist
9 Daily Habits of Highly Healthy Brains
Learn how to use neuroscience in your everyday life.