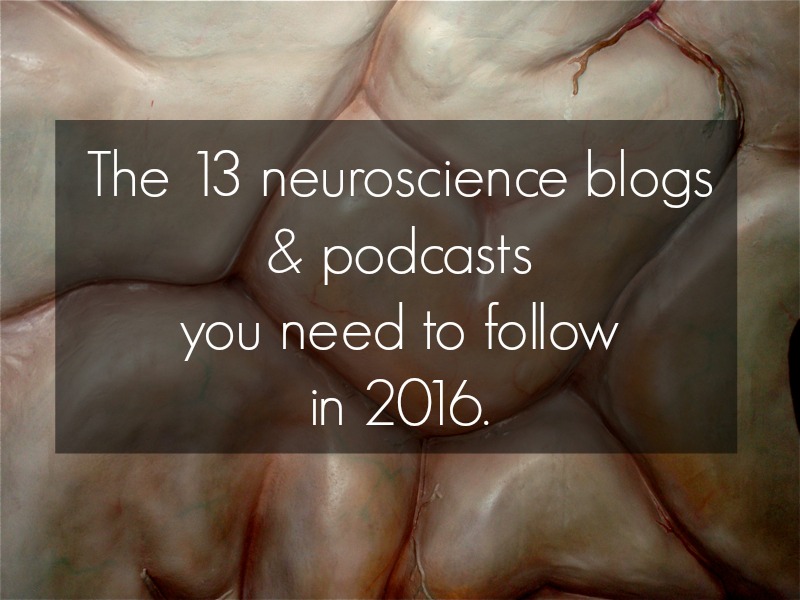 Neuroscience is seductive. We have studies proving that the presence of irrelevant neuroscience information makes explanations of psychological phenomena more appealing! And throwing in fMRI pictures further increases that allure.
Neuromyths are abound and understandably there are numerous neuroscientists, bloggers and others lining up to sneer and throw rocks at people who believe them or who continue to peddle them (entertaining for some, but unhelpful and off-putting for those who're genuinely curious to learn more).
Short of signing up for a PhD in neuroscience, or trawling through the over 100,000 research articles published annually containing the word 'brain' how does one know where to turn to for simple, relevant, evidence-based information about the mind and brain?
I recommend the following 13 science writers, bloggers and podcasters. They discuss with warmth, insight, wisdom and a solid foundation of knowledge the latest science and stories related to the mind, brain and behaviour.
Follow them and your brain will thank you.
In no particular order …
Neurophilosophy by Mo Costandi. Mo took my line when he described himself as "a developmental neurobiologist turned freelance science writer"… except he's based in London not Sydney! Mo describes his blog as being about molecules, mind and everything in between. I read everything he writes, and his first book '50 Human Brain Ideas You Really Need to Know' is one of my brain-bibles. I love this piece, 'How your eyes betray your thoughts'.
Brain Blogger is not an individual, but a smart collective of academics, science journos and health professionals who write this award winning health and science blog . They review the most impactful news and research related to all things brain (neuroscience, neurology, psychology, psychiatry, and healthcare). One of THE go-tos online for neuro-news. Check out this great piece, Psychedelic-Assisted Therapy – The Mental Health Trip of the Future?
All in the Mind is an ABC Radio Sunday evening classic presented by Lynne Malcolm (with older episodes hosted by Natasha Mitchell). The show is an exploration of all things mental —the brain and behaviour, and the fascinating connections between them. A treasure trove of interviews, transcripts and links to loose yourself in. I suggest you listen in to this popular report on the influence of gut bacteria on our mental health, The Second Brain.
The Mental Elf team, lead by André Tomlin, post short and snappy summaries that highlight evidence-based publications relevant to mental health. Essential reading to help sort out the wheat from the chaff when it comes to mental health treatments and research. Read this excellent summary of mindfulness 'All in the mindfulness? Reflections on the Mindful Nation report'
The Psychology Podcast by psychologist and science writer Scott Barry Kaufman. In his words Scott's podcasts give you 'insights into the mind, brain, behavior and creativity'. Each episode features a guest who will stimulate your mind, and give you a greater understanding of your self, others, and the world we live in. Scott also writes the column Beautiful Minds over at Scientific American. I'm very happy to fan-girl his interview with one of my heroes, Jane McGongial, How Video Games Can Make Us SuperBetter.
Christian Jarrett's blogs and articles on the mind and brain are world class. Another neuroscientist turned science writer (I believe they're always the best kind), Christian writes for the New York Magazine's 'Science of Us' section and the British Psychological Society's Research Digest. He also busts neuro-myths in his latest book Great Myths of the Brain (essential reading for all students taking my courses). See how clearly and simply he explains complex ideas in this piece, Drugs and Talk Therapy Affect the Brain in Different Ways.
The Best Brain Possible by Debbie Hampton shares information about the tools Debbie used to heal herself and her life physically, emotionally, mentally, and spiritually after suffering a brain injury. Debbie speaks from the trenches and her thought-proking pieces promise to inspire and encourage you to take control of and change your brain and life for the better. Debbie nails it with this post, The Best Brain Advice from the Brain Experts.
BrainCraft with Vanessa Hill isn't a wordy blog but a quirky, fun and evidence-filled digital series exploring psychology, neuroscience and why we act the way we do. Vanessa tells stories about science in a thoughtful and creative way that's both entertaining and accessible. It's SO hard to pick from her treasure trove of videos, but I love this one: The Power of Sadness in Inside Out.
PsyBlog by psychologist Jeremy Dean shares the science of how the mind works. He's prolific, and posts short, simple and compelling research summaries daily. Pieces have included how memory works, self-control, methods for boosting creativity and the psychology of work. Check out this crazy but true story, People Good at Swearing have this Major Advantage.
Brain Science with Ginger Campbell is one of the longest running neuroscience podcasts round. Dr. Campbell describes herself as an experienced emergency physician with a long-standing interest in mind-body medicine, the brain, and consciousness. Brain Science shares recent discoveries from the world of neuroscience in a way that people of all backgrounds can enjoy.  This is my all time favourite (listen to it while you're next working out): Exercise promotes brain plasticity with John Ratey.
Shink Rap Radio's tagline 'All the psychology you need to know and just enough to make you dangerous' sums up Dr Dave Van Nuys' podcast. The warm and wise Dr Dave's weekly interviewees include therapists, scientists and psychologists. In this podcast he speaks to neuroscientist Elizabeth Johnston about the neuroscience of emotion, The Feeling Brain.
The Dana Foundation isn't technically a blogger, but is 'your gateway to responsible information about the brain'. Their primers are particularly useful for a more in-depth look at basic principles of neuroscience. Take look at this primer on the notion of Right Brain-Left Brain.
Your Brain Health with Dr Sarah McKay (yet another neuroscientist turned science writer!). I aim to help you to discover neuroscience, understand the brain, and expand your mind. With heart. From the beach. I also blog over at the ABC's Active Memory site where I've written about everything from empathy, to mindset in the classroom, to what happens to your brain on coffee!
---
Have I missed anyone from the list?
Leave me a comment and I'll check out your recommendation!
---
Image credit Ton Haex www.flickr.com/photos/zjootsuite/2357302721
I'm an Oxford University-educated neuroscientist, presenter of ABC Catalyst, director of The Neuroscience Academy, and author of The Women's Brain Book. The neuroscience of health, hormones and happiness.
download my free checklist
9 Daily Habits of Highly Healthy Brains
Learn how to use neuroscience in your everyday life.