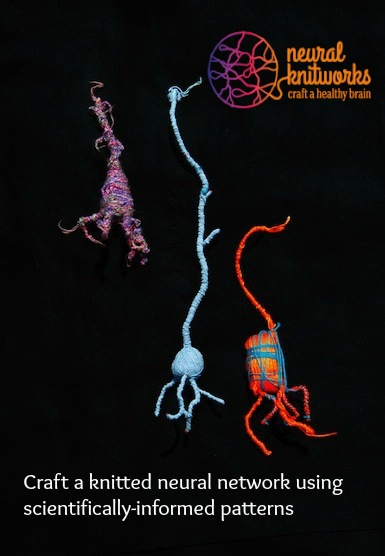 I'm super excited to share this new art-science initiative that I've helped get up and running here in Sydney. One of the BEST things to come out of writing this blog has been the unexpected opportunities that have come my way to spread the word about neuroscience and brain health in fun, creative ways.
Neural Knitworks is a collaborative art-(neuro)science project for mind and brain health.
Whether you're a whiz with yarn, or just discovering the joy of craft, now you can crochet wrap, knit or knot—and find out about neuroscience.
Neurons are electrically excitable cells of the brain, spinal cord and peripheral nerves. The billions of neurons in your body connect to each other in neural networks (knitworks – get it!?). They receive signals from every sense, control movement, create memories, and form the neural basis of every thought.
Neural Knitworks invites you to create textile neurons that will contribute to a travelling art exhibition. Your creations will be joined with others to weave a sculptural knitted 'neural network'. No knitting experience is required and people of all ages can participate.
Check out our 'scientifically-informed' knitting patterns available to download from our Neural Knitworks event page.
What happens at a Neural Knitwork?
Neural Knitworks events (think knit-ins) are based on the principle that yarn craft with its mental challenges, social connection, and mindfulness, helps keep our brains and minds sharp, engaged and healthy.
design your own woolly neurons, or get inspired by our scientifically-informed knitting, crotchet or knot patterns
knit a neuron and natter about neuroscience
contribute to a travelling textile brain exhibition
increase your attention span and test your memory
forge friendships
solve creative and mental challenges
practice mindfulness and relaxation
teach and learn
develop eye-hand coordination and fine motor dexterity.
Interested in hosting a Neural Knitwork?
Download our posters to advertise your Neural Knitwork and add your own event details.
Visit our event organiser's toolbox for tips on hosting a successful event.
You'll need plenty of yarn, needles, copies of our scientifically-based neuron crafting patterns and a comfy spot in which to create.
Gather together a group of friends who knit, crochet, design, spin, weave and anyone keen to give it a go. Those who know how to knit can teach others how to do it, and there's even an easy no knit pattern that you can knot.
Download a neuroscience podcast to listen to, and you've got a Neural Knitwork!  And I personally recommend listening to Brain Science podcasts from Dr Ginger Campbell.
Join the Neural Knitworks community on Facebookto share and find information about events including public talks featuring neuroscientists.
The Neural Knitworks team
Textile artist Pat Pillai's idea to knit and weave brain cells was the winning pitch at the 2013 Ultimo Science Festival Art & Science Soiree in Sydney.
With encouragement from the Soiree's organiser Sophie Weeks and fellow artist Rita Pearce, the idea for the Neural Knitworks exhibition at Hazelhurst Regional Gallery soon took hold.
Inspiring Australia's NSW Manager Jackie Randles worked with the artists to extend the concept beyond the gallery as a National Science Week community art project. Input also came from Jenny Whiting, Heather Main, Deirdre Molloy, Sarah McKay (that's me!), Rod Dowling, Kuldip Sidhu and Carrie Kibbler.
Huge thanks to the many scientific researchers who provided access to inspirational images used as the basis of patterns, and to all those who have offered support and assistance along the way to bring this big woolly project to life.
Founding partners include Hazelhurst Regional Gallery, Inspiring Australia (NSW), ANSTO, Your Brain Heath (hooray!), Brain & Mind Research Institute, the Centre for Healthy Brain Aging, and Alzheimer's Australia
More about the unexpected effects of knitting from BrainCraft
There you have it – knit a neuron and natter about neuroscience!
I'm an Oxford University-educated neuroscientist, presenter of ABC Catalyst, director of The Neuroscience Academy, and author of The Women's Brain Book. The neuroscience of health, hormones and happiness.
download my free checklist
9 Daily Habits of Highly Healthy Brains
Learn how to use neuroscience in your everyday life.