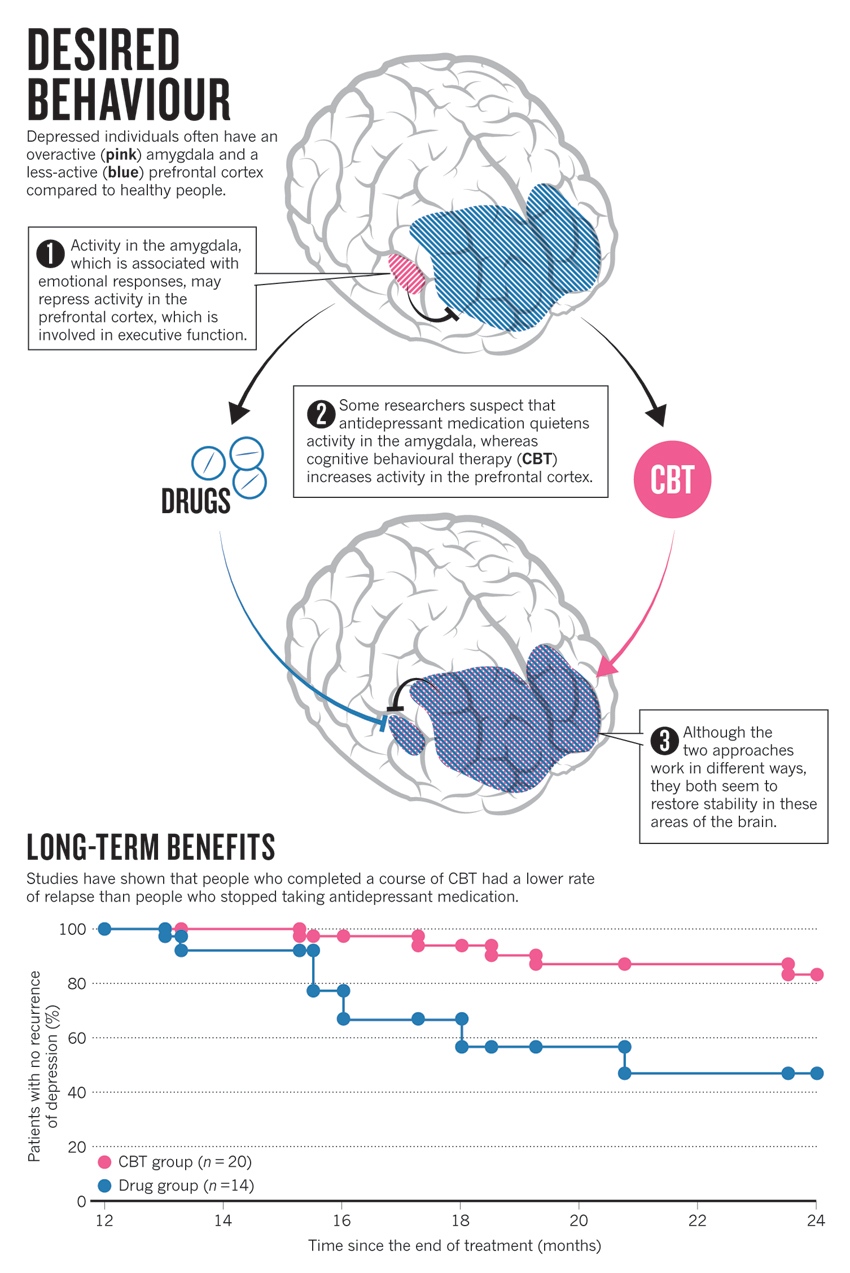 In an open-access edition of Nature magazine this week ('The Great Depression') science journalist Emily Anthes took a look at the current state of research into Cognitive Behavioural Therapy (CBT): Depression: a change of mind.
Here are a few of the highlights:
Cognitive behavioural therapy (CBT) lifts depression
CBT aims to help people to identify and change negative, self-destructive thought patterns. It's designed to equip patients with the skills they need to 'become their own therapists', by critically examining their negative beliefs.
It doesn't work for everyone, but the stats on recovery show an interesting story when compared to pharmacotherapy:
42–66% of patients no longer meet the criteria for depression after CBT.
22–40% of patients emerge from depression with drugs alone.
What are the 'active ingredients' of CBT?
CBT 'works' (for 42-66% of depressed people) but no-one really know what the 'active ingredients' are—changed thought patterns? Positive thinking? The bond with the therapist?
Does the therapy relieve depression by changing someone's thought patterns or is the new pattern of positive thinking a consequence of someone's improved mental health?
Research into the CBT mechanism
To begin to unravel the mechanisms researchers studied recordings of CBT sessions.
"…what you really want to do is get inside the moment or moments when someone has a positive therapeutic change and try to understand what's shifting in just those moments."
Research has revealed any depressed adults undergoing CBT experienced 'sudden gains', in which their symptoms lessened significantly between two therapeutic sessions. These rapid changes accounted for more than half of the patients' total improvement over the course of treatment. Indeed, altering a person's thinking style may indeed lead to recovery.
Researchers have also shown that learning mental coping skills may be the most important kind of cognitive change during CBT.
"The cardinal skill is catching your thoughts in a moment where your mood takes a turn for the worse and thinking through the accuracy of your thoughts in that moment."
Brain imaging studies have focussed on two brain areas—the prefrontal cortex, which is responsible for complex mental tasks such as self-control and planning, and the limbic system — including the amygdala — which is involved in emotional processing.
In healthy people, the prefrontal cortex can inhibit amygdala activity, keeping emotions in check. But imaging shows that in many people with depression, the prefrontal cortex seems to be less active.
"Depressed people have what you might think of as a trigger-happy amygdala."
One study showed that depressed adults had increased levels of activity in the amygdala when performing an emotional task and reduced levels of activity in the dorsolateral prefrontal cortex when performing a cognitive task. CBT reversed this situation.
Researchers speculate that CBT — with its focus on controlling thoughts — re-engages the underactive prefrontal cortex, which, in turn, helps to quieten the hyperactive limbic system.
"Cognitive therapy teaches you to step in and use your prefrontal cortex rather than letting your emotions run away with you."
I'm an Oxford University-educated neuroscientist, presenter of ABC Catalyst, director of The Neuroscience Academy, and author of The Women's Brain Book. The neuroscience of health, hormones and happiness.
download my free checklist
9 Daily Habits of Highly Healthy Brains
Learn how to use neuroscience in your everyday life.