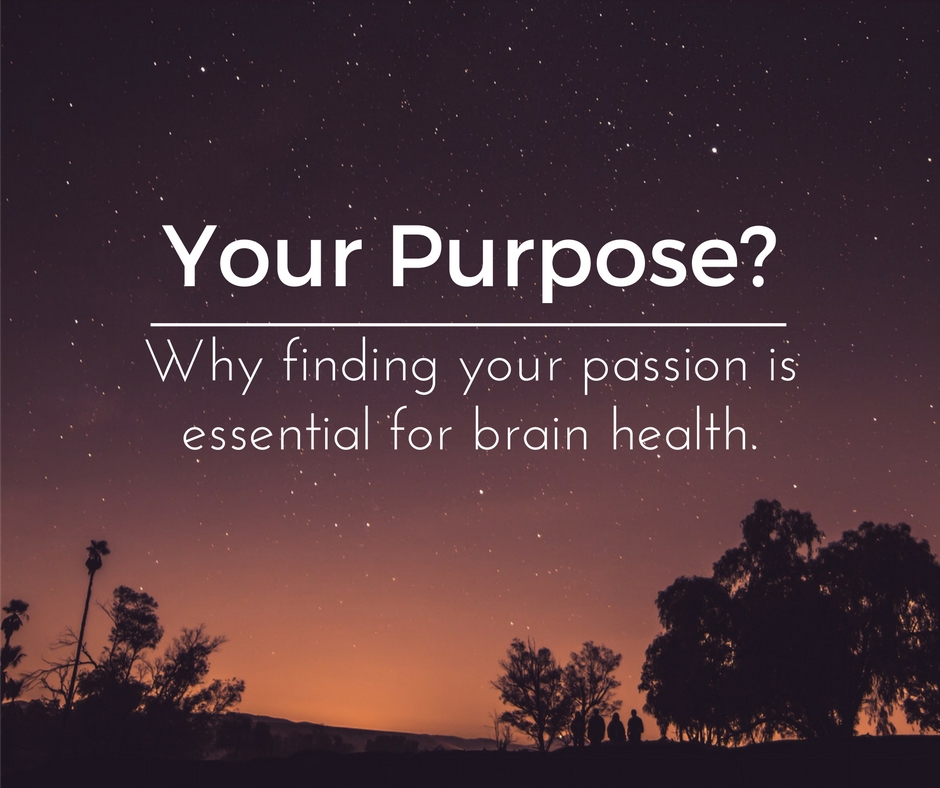 I've been writing this brain health blog since 2013, and it has changed my life and my career in extraordinary ways.
My original purpose for this blog has been to provide impeccably-researched evidence-based stories that are told in a simple, fun and compelling way. And it has certainly taken me on an extraordinary journey.
Purpose, defined as the tendency to derive meaning from life's experiences and to possess a sense of intentionality and goal-directedness that guides behaviour, can be quantified!
With purpose and meaning comes positive emotions — love, compassion, and appreciation — which counteract stress and support a healthy brain throughout life.
Blue Zones residents are members of faith communities and find meaning and purpose through spirituality. Living a meaningful life seems an unlikely addition a brain blog, but 'purpose in life' is a concept in neuroscience that links to robust brain and mind health.
Purpose in life reduces risk of Alzheimer's disease and cognitive impairment
Drs David Bennett and Pamela Boyle the Rush Medical Centre in Chicago, published this finding in a paper in the Archives of General Psychiatry in 2010.
The project studied more than than 900 community-dwelling older people without dementia.
All participants underwent baseline evaluations of their purpose in life. And they were followed up over seven years to see if they went on to develop cognitive impairment or symptoms of Alzheimer's disease.
The study defined 'purpose in life' as: the psychological tendency to derive meaning from life's experiences and to possess a sense of intentionality and goal-directedness that guides behaviour.
To measure 'purpose in life' the team asked participants to rate their level of agreement from one to five, to each of the following statements:
I feel good when I think of what I have done in the past and what I hope to do in the future.
I live life one day at a time and do not really think about the future.
I tend to focus on the present because the future nearly always brings me problems.
I have a sense of direction and purpose in life.
My daily activities often seem trivial and unimportant to me.
I used to set goals for myself, but that now seems like a waste of time.
I enjoy making plans for the future and working them to a reality.
I am an active person in carrying out the plans I set for myself.
Some people wander aimlessly through life, but I am not one of them.
I sometimes feel as if I have done all there is to do in life.
Scoring for the negatively worded items was flipped (e.g. Qs 5, 6 & 10) and item scores were averaged to give a total purpose in life score for each person, with higher scores indicating greater purpose in life.
All of the scores were adjusted (a statistical technique that takes into account other factors and 'levels the playing field') for depressive symptoms, neuroticism, social networks, and chronic medical conditions.
Results showed
In the 7 years of the study, 155 of 951 people (16.3%) developed Alzheimer's disease. Statistical analysis showed that greater purpose in life was associated with a substantially reduced risk of Alzheimer's disease (hazard ratio, 0.48; 95% confidence interval, 0.33-0.69; P<0.001).
A person with a high purpose in life score was approximately 2.4 times more likely to remain free of AD than was a person with a low purpose in life score.
A high purpose in life score was also linked to less 'mild cognitive impairment'. Mild cognitive impairment is a long preclinical phase during which people may transition before they show sufficient symptoms be diagnosed with Alzheimer's disease.
A high purpose in life score was also linked to a slower rate of cognitive decline in old age. And purpose in life was related to a decline in semantic memory, followed by episodic memory, then perceptual speed, and working memory.
Purpose in life had been previously linked to positive health outcomes including :
better mental health
less depression
happiness
satisfaction
personal growth, self-acceptance
better sleep
longevity
What is the biological basis of purpose in life?
How does purpose in life protect against cognitive decline?
This is a hard question to answer.
The researchers state,
The finding that purpose in life is related to longevity in older persons suggests that aspects of human flourishing—particularly the tendency to derive meaning from life's experiences and possess a sense of intentionality and goal-directedness that guides behavior—contribute to successful aging.
It is likely people who experience greater purpose in life are less stressed and experience more positive emotions. For example, lack of purpose in life is associated with high levels of the stress hormone cortisol, markers of inflammation, low high-density lipoprotein cholesterol levels (the 'good' cholesterol), and abdominal fat – all factors that associated with poor general health.
A subsequent study is published in 2012 in the Archives of General Psychiatry reported greater purpose in life may help stave off the harmful effects of plaques and tangles associated with Alzheimer's disease. Patricia Boyle said,
Our study showed that people who reported greater purpose in life exhibited better cognition than those with less purpose in life even as plaques and tangles accumulated in their brains…

These findings suggest that purpose in life protects against the harmful effects of plaques and tangles on memory and other thinking abilities. This is encouraging and suggests that engaging in meaningful and purposeful activities promotes cognitive health in old age.
A 2019 Frontiers of Psychology review titled Something to Live for": Experiences, Resources, and Personal Strengths in Late Adulthood  explores 'disengagement theory'. The theory suggests a view of old age as a time of life when people step back from various commitments and social roles. But the findings of the present study highlight the desire and importance of older adults to remain active participants in society through creating opportunities for social connectedness, contribution, and belongingness.
One of the elders interviewed for the 2019 review stated:
To be part of a bigger group enables you to deal better with things. This is what gives meaning to our lives… We are not loners that live merely to survive; we live because we are part of society. This is what holds us, this is what I think gives life purpose and meaning…
And another said,
I see that there are times when I'm not focused on a specific target, and then I waste my time not doing things that are meaningful for me. And there are things that are important to me, things that I really want to do, but due to a lack of thinking ahead or planning, I postpone them or don't do them properly… It is important for me not to waste time, not only because I think that there is a limited time to each person, but because everyone has missions to fulfill in life, and it's a pity to postpone them. It's not just that we are born and then die.
How do you find your life's purpose?
By lovely coincidence, another wellness blogger Mark Sisson from Mark's Daily Apple was also writing about purpose and longevity recently.
Because he says it so well, here is his take on how to find your purpose, and I couldn't agree more …
…do the list making, the rational weighing, the free from brainstorming that experts suggest. Reflect on your passions, your priorities, your values, your talents and temperament. Consider where all of these can intersect with the needs you see in the circles or society around you. Talk to friends. Take a stab at writing a personal mission statement if you're so inclined. Mull on the question while you're washing dishes. Fill your head with the possibilities, the pros and drawbacks, the complexities and ambiguities. But then move out of cerebral mode entirely, get out of your own way, and hand the question over to your intuitive self.

Personally, I find there's nothing more conducive to intuitive thinking than solo time outdoors… Think the question once – and only once – as you head out "into the wild" for your mini retreat. Then forget about it for the day. Just be and do and watch and smell and head home when you're good and ready….

One day you'll leave with your answer. Maybe it will come to you like a vision as you round the corner of a trail one day. Maybe it will settle in quietly, almost imperceptibly until you finally notice it's there with you. Either way, you'll have let your answer come forth from hours of, call it, Primal meditation. Not a bad source to tap into when you're seeking purpose – and time away worth the health benefits all on its own.
As I wrote in my book, it's useful to ask yourself what's your north star? Your 'ikigai'. Your 'plan de vida'? There are possibly many clever strategies to find the meaning of your life — somewhere in the nexus of passion, skillset, employment opportunity, education and service to others. William James the psychologist said in 1920,
The deepest principle in human nature is the craving to be appreciated.
Recently I've come across a simpler way.
Over the years, I've taken to the 'science careers advice' stage with Paul Baldock, a bone biologist at Sydney's Garvan Institute of Medical Research. We called on to share our wisdom, purpose and what we've learned on our career paths in science. Baldock has developed a novel formula for every decision he makes in the research lab, career, and life. He simply asks,
Is it awesome? Does it help?
---
This blog post was updated in December 2019.
I'm an Oxford University-educated neuroscientist, presenter of ABC Catalyst, director of The Neuroscience Academy, and author of The Women's Brain Book. The neuroscience of health, hormones and happiness.
download my free checklist
9 Daily Habits of Highly Healthy Brains
Learn how to use neuroscience in your everyday life.